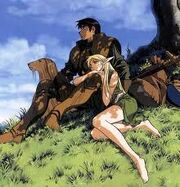 Riel's father, Khorranis was a warrior that lived in Bellum. And, despite not wanting to fight, as his father did, Khorranis taught Reil all the tricks of the trade.
Throughout his life, Reil tried his hand at many different jobs, including no less then eight apprenticeships. Eventually he settled on being a hunter in the High Forest.
He wears a green marking on his face to symbolize his tribe, when in public, with a sub-mark to symbolize his family.
Reil was the first living soul to find Kalen after her banishment from Akla.
Ad blocker interference detected!
Wikia is a free-to-use site that makes money from advertising. We have a modified experience for viewers using ad blockers

Wikia is not accessible if you've made further modifications. Remove the custom ad blocker rule(s) and the page will load as expected.